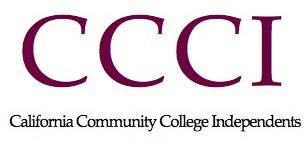 The PCC Faculty Association is proud to be a member of the California Community College Independents (CCCI). The CCCI's mission statement is as follows:
Mission of Support — To provide a professional organization for Independent faculty union leaders in which they can share information and learn from each other about negotiation issues and contract matters: a) to provide support and consultation for union leaders and members; b) to troubleshoot in Independent districts experiencing legal or organizational difficulties; c) to work on contract details; d) to share legal advice; e) to hold Fall and Spring conferences (alternating between southern and northern California locations).
Mission of Representation — To provide a formal statewide voice for the Independent faculty unions regarding issues affecting California community colleges: a) to serve as a formal representative member of the Consultation Council, the constituent advisory body of the state Chancellor and the California Community College Board of Governors; b) to serve as one of the five members of the Council of Faculty Organizations (CoFO); c) to represent CCCI in meetings with other state organizations; d) to keep members informed about current issues.
For the CCCI Fall 2014, please click on the link below:

For more information, please visit: http://cccindependents.org/