Negotiations timeline – where have we been, where are we going
5/25/2012: Negotiations began
7/18/2012: District proposes a completely new MOU with a different negotiating team
9/7/2012: District offers a completely new proposal with a new negotiating team – rather than the two VPs, there was Dr. Rocha flanked by two attorneys (general counsel and outside counsel).
11/5/2012: District cuts off negotiations
11/6/2012: Prop 30 Passes – results in additoinal $6.7 Million ongoing funding to PCC
District refuses to negotiate with FA even after repeated attempts by FA to get District to come back to the table (including Thurs., May 30)
late 11/2012: District files Impasse with PERB over all negotiating issues
12/2012: Mediation begins
3/2013: District's  Last, Best and Final offer  gets handed out by Dr. Rocha at the Academic Senate meeting, two hours after it has been emailed to the FA negotiators
PCCFA Summary of Bargaining Process-Major Sticking Points (March 21, 2013)
PCCFA Counter Offer of March 13, 2013 to PACCD
3/2013: Mediator sends the case to fact-finding. Read about Fact Finding.
5/6/2013: Fact finding begins
    District refuses to waive 30-day time limit – no interest in fully vetting issues
    District refuses to return to mediation regardless of fact-finding report
    (District cannot impose until fact-finding is completed)
5/30/2013: Fact-Finding Hearing- What could have been an open meeting had the District agreed, turned into a trial of transparency: the District mandated that the faculty and staff in the room leave (standing-room only with 35+ attendees), that the Courier reporter leave, and even the FA-hired court reporter leave. Read about it in the Pasadena Star: http://www.pasadenastarnews.com/news/ci_23365789/mediator-holds-hearing-at-pcc-over-union-impasse
6/5/2013: Fact-finding report due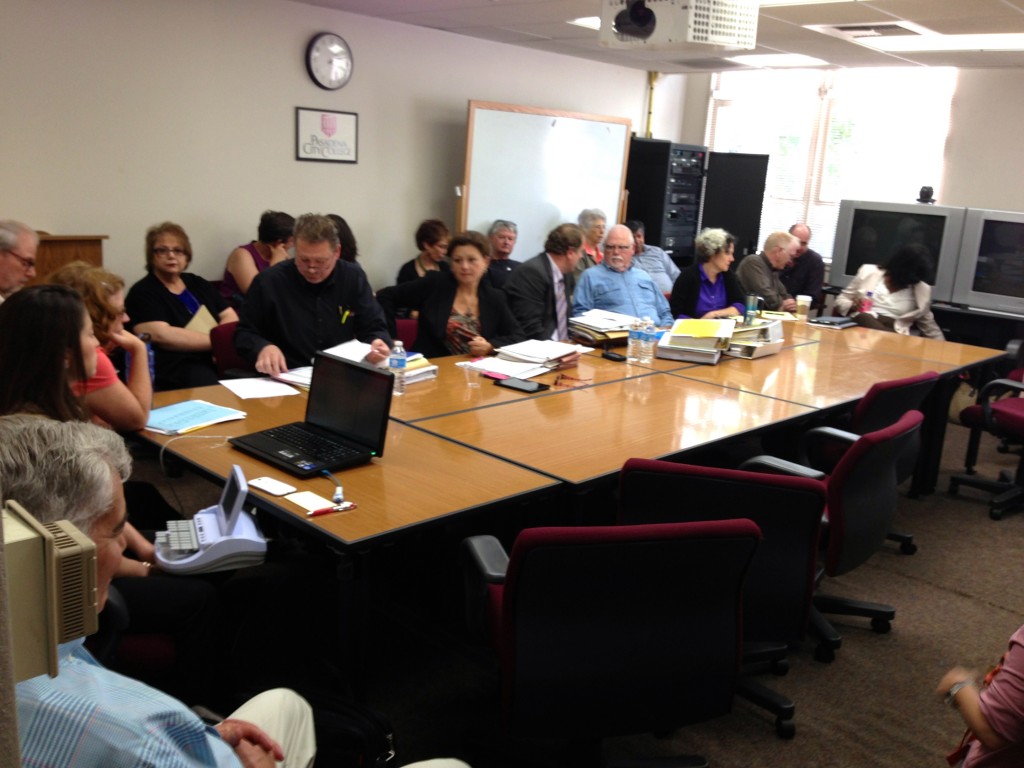 Fall 2012
Negotiations Update  (Nov. 8, 2012)
Negotiations Update – (Oct. 17, 2012)
PCCFA+District contract proposals (ppt.) – compare both PCCFA and PCC District proposals. The proposal from the District includes overload paid at lowest adjunct rate starting 2014; normal closing numbers (NCNs) set at 45 students for all online classes, zero post-retirement benefits for retirees starting 2020; health benefits for new employees only (no spouses, no children) starting 2013. Read more about what the District's offer means.
Negotiations Update (Oct. 3, 2012)
Negotiations Update (Sep 28, 2012)
Negotiations Update (Sep 21, 2012)
Negotiations Update (Sep 14, 2012)
PCCFA's  5  General Philosophical Principles in Negotiations
How has the calendar switch affected you? Please contact the FA immediately with any and all effects that the trimester calendar has had  or will have on you, so the FA can attend to your issue(s) in the current negotiations.
Did you know? PCC falls at number 60 out of 68 California community colleges in a statewide average, with 49% parity (.425 pro rata) for adjunct faculty at initial placement on the salary scale, and at number 46 with 46% parity (.407 pro rata) in the 9th step of salary scales. Source:  Adjunct Pro Rata and Parity – statewide comparison (2012) 
Where are the best and brightest faculty going to teach? Not at PCC!  PCC remains competitive until around the 11th step on the non-doctorate full-time salary scale. At the Step 12, PCC currently ranks 44 out of 71 reporting schools, and at Step 21, we rank as the 54th highest paying school in the state.  See for yourself!
Related Negotiations Documents: